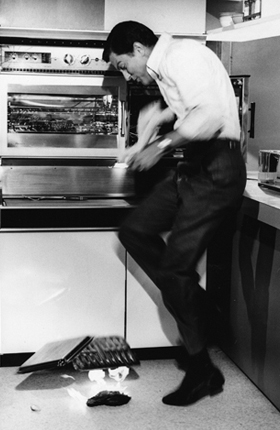 Dear Bashionista,
I am a horrible cook and it stops me from inviting people over. But I have so many people who have cooked for me and I want to repay the favor. What do I do? I sense that inviting people over for takeout would be . . . incredibly lame.
Help!
Sascha R.
Dear Sascha,
So what you're telling me is that you are always the dinner guest, never the chef, and this leaves you wracked with guilt.
I have good news for you! People who love to cook usually love to cook for other people - that is their entire agenda! And my guess is, if you keep getting invited back, your chef friends value your sparkling wit more than your ability to get a souffle to rise. Maybe you're an easygoing dinner companion, or maybe you're just easy on the eyes. Maybe you are the person who can be counted on to help break down tables at the end of the night, or maybe, just maybe, your inability to cook makes you an incredibly appreciative dinner guest. Trust me, there's something you're bringing to the table . . . no pun intended.
Now that being said, it makes me sad to hear that your lack of confidence in the kitchen prevents you from entertaining. There are a couple of different ways that we can tackle this. First, exactly how "horrible" a cook are you? If by horrible you mean unmotivated, uninspired, or inexperienced, you are in luck! I have created three different meal plans tailored for a new cook trying to impress his friends. Check out
A Simple and Elegant Italian Feast
;
A Fun and Easy Mexican Feast
; or
Delicious and Plentiful Comfort Foods
- then choose the number of courses you want to tackle and bam! Your dining karma is back in balance.
However, if by horrible you mean that the food you regularly cook is so awful that you can barely stomach it, then do your chef friends a favor and Do Not Attempt to cook for them. Instead, have them over for a small get-together
after
the dinner hour. They'll love the chance to socialize at a
Game Night
or
CD Mix Swap
, and you can get by with serving a nice cheese and fruit platter, veggies and dip, chips and popcorn. Better yet - distract from your lack of cooking prowess by mixing up a pitcher of your favorite cocktail.